St Avit Senieur is a small village about 15 minutes from Lalinde, overlooked by a huge and ancient church this pretty village hosts some of the best
Vide Grenier ( empty attic / garage sales ) market days in the area.
Today was a little different as they also had on display a very interesting selection of old farm machinery, threshers, hay balers, wheat grinders, mobile bread ovens, tractors, bullock and horse carts ….
For many decades the Dordogne grew most of the tobacco for the famous Gitane and Gauloise cigarettes with the cigarette factory on the East side of Bergerac. The French Government sold the nationally owned brands in 2000 to a Spanish company and over a very short period, the production of the cigarettes and sourcing of the dried tobacco leaf moved out of France, plus, the popularity of these 2 brands fell away to more international brands like Marlboro, roll your own Drum etc….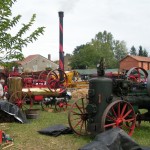 Our area is dotted with 100's of old tobacco drying barns, obvious by their high stud and louvered sides to enable the gentle summer breeze to flow through and air dry the tobacco leaves. The farmers were paid for their crop by a combination of dry weight and the humidity/moisture content of the leaves. Today the tobacco leaf crop has been replaced by maize and sunflower production.
Vide Greniers are an important part of our local social life, a great way to try and SELL those unused bits and pieces lying around, and a great way to BUY
interesting things for your house and also a nice way to spend some free time on Sunday wandering around the stands and usually meeting some friends enjoying the same opportunity.